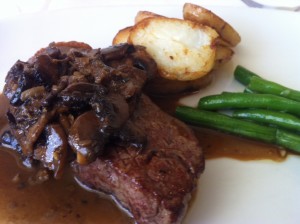 We're kicking off 2014 with an American born favourite, Steak Diane. This beefsteak dish, traditionally served with delicious seasoned gravy style sauce, potatoes and green vegetables, apparently originated in New York City around the 1960's when the trend-setting city took a shining Flambé, a dramatic French style of cooking where alcohol is added to pan to create a burst of flame. (Flambé is used to create the Diane sauce)
Unfortunately, even for the sake of a good story, there wasn't anyone named Diane in its conception, and although New Yorkers rarely hunted cows, Diane, was used as reference to the Roman goddess of the hunt.
At Boulcott Street Bistro, our rendition of this retro classic is a beautiful piece of  aged sirloin with classic Diane sauce, sautèed potatoes and steamed green beans. It's just $20 and available every lunch-time throughout January and February .