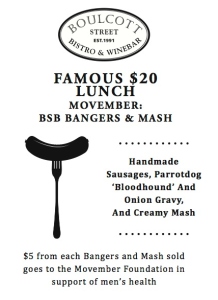 As a restaurant we like to get behind a good cause and this month we're getting a little hairy with our Famous $20 Lunch Special. We're collaborating with ParrotDog Brewery to serve up a feel good offer all in the name of men's health for Movember.
We're serving a classic dish, Bangers and Mash; handmade sausages, creamy mashed potato with a ParrotDog beer and onion gravy. It's the usual $20  with the option to match with a ParrotDog Bitterbitch for $10
25% of all proceeds going to Movember.
A special thanks to ParrotDog for joining forces. So come along and have a delicious lunch, enjoy a good local beer and support men's health.
The Boulcott Boys are also getting a little hairy this month too, and for Movember are growing their moustaches to raise funds. Click here to support 'em.